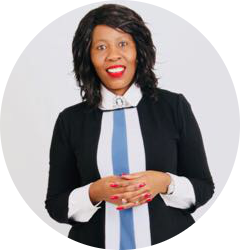 Dr Mirriam Kganya is a practising Clinical Psychologist in both public (Dr George Mukhari Academic Hospital) and private sectors with consulting offices in Wonderpark Mall and Soshanguve, Pretoria. She lectures postgraduate students at Sefako Makgatho Health Sciences University (formerly Medunsa). Graduating Cum Laude in Honours degree, she further holds a Master's degree and PhD in Clinical Psychology and other professional qualifications including Supervisory Development Programme and Human Resources Management.
consultations with the Psychologist are per appointment
WANT TO SCHEDULE AN APPOINTMENT?
Call us at 012 516 0718 and 079 811 5112 or fill in the appointment form.
Individual Therapy | Group Therapy | Family Therapy | Couples/Marital Therapy | Trauma Debriefing/Counselling Assessments | Supervision | Workshops and Training | Employee Wellness
• Health Professions Council of Southern Africa (HPCSA) Acts and Regulations • Mental Health Care Act • Basic Conditions of Employment Act • Children's Act